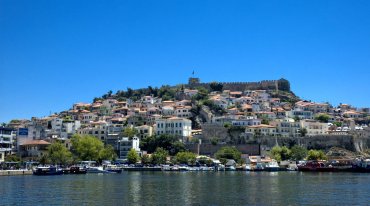 Kavala
For those of view that have the luck to stop at the port of Kavala, this will be a fascinating experience and will give you the chance to enjoy the beauty and unique architecture of this city that was first built on the 7th century BC as a colony of the Eretrians, therefore it was named Neapolis, meaning in Greek, new city.
The city remained important throughout the centuries and during the several occupations that Greece has gone through, something that is clear on the different architectural elements on its buildings, but one of the most important historical events about it, has been the arrival of St. Paul in 49 AD.
The name the city has today, Kavala, is either coming from the Italian word cavallo, which means horse, since the whole city is like a rider on its horse, in this case the rock of the mountain, or from the Mediterranean city of Skavalia that the barbarians destroyed and its inhabitants immigrated to Kavala.
Today the city remains very beautiful and is famous for several things, among which stands out the large amounts of fresh fish that all the boats you will see by the old port fish and the several tavernas next to the water, where someone can taste the fish and several other unique specialties.
2.5 h. walking tour (Private tour) (guidance throughout + visit of the archeological museum + visit of the aqueduct + free time) Your professional licensed tour guide and local expert will meet you right next…
Read more...
3.5 h. tour (Private tour) (private transportation + local guidance + visit of the archeological site of Philippi + visit of the Lydia's baptistery + free time) Your will be met by your driver right…
Read more...