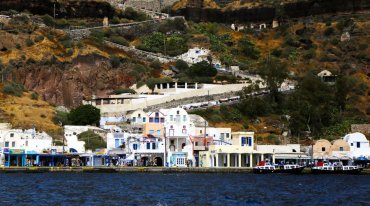 Santorini
Created by the volcano erruption in 1650 B.C., Santorini's cruise port port of call is located at the bottom of the Caldera cliffs in Fira, the capital of Santorini. It doesn't have a cruise terminal and visitors are tendered ashore by small boats. The only ways up to Fira is by the cable car, the donkeys or by walking, which we do not recommend.
Find more details about our semi-private shore excursion of Santorini and join us to explore the island!
5h explorers tour (semi-private tour, up to 18 people max) COST: 108 EURO P.P. (CHILDREN UP TO 3 Y.O. JOIN FOR FREE) (Old port – Take the cable car to meet your tour director –…
Read more...
5.5 hour semi-private tour (maximum 18 participants) COST: 148 EURO P.P. (CHILDREN UP TO 3 Y.O. JOIN FOR FREE) (Private boat trip from Old port to Ammoudi port of Oia – Oia village – Blue…
Read more...