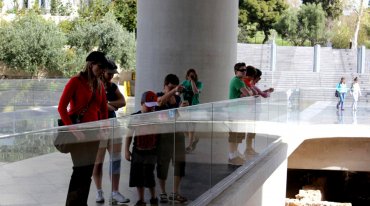 Local Guiding Services
If you would like to experience an archaeological site or museum in depth and learn as many facts and details as possible about its history, you need to experience it through the presentation of a licensed tour guide who will bring it to life and will travel you back in time, helping you visualize what things were like once upon a time.
Greece is one of the countries where you need to be licensed by the Greek Ministry of Culture and Tourism in order to be able to enter and guide any of the Greek archaeological sites, museums or historical buildings.
Having been guiding myself all around Greece, since 1997, I have selected a team of excellent professionals based in different cities in Greece, that I have known for all these years, fluent in several different languages, with whom it would be my pleasure to arrange a private guided tour for you.
Give us the dates of your stay in Greece and the places you would like to visit, and we would love to provide you with more information, suggestions and costs. We could book a private guide for you in fluent English, French, German, Spanish, Polish, Russian, Japanese or several other languages after your request.
Private guidance is even more ideal for families with young kids, who many times are extremely fascinated to visit the country of Alexander the Great, Hercules, Poseidon etc, but need someone who with his presentation will focus on all that and will make the kids participate in this experience, making the tour simplier and more interactive.
Especially during summer, when there are large tourist crowds arriving all around Greece via cruise ships or buses, and when the temperatures are higher during midday, I would definetaly suggest from my personal experience that the afternoon visits are much better considering the facts that the temperature is more pleasant and with more shades in most sites, the light for photography is more ideal and the crowds are very limited which is always being appreciated by small parties that want to experience in depth an archaeological site or museum.