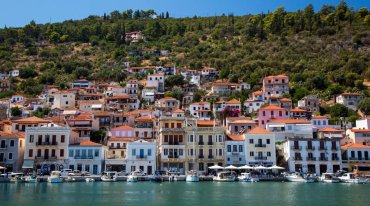 Gythion
This picturesque little town is located on the south of the Peloponnese. It is also well known as the ancient port of Sparta, being so close to both Ancient Sparta and the medieval town of Mystras. Mani is a legend by itself, a peninsula that is being characterized by a very dramatic and unique landscape composed by huge rocks, big cliffs, amazing sea views from its windy roads and stone tower houses that the locals used to build to either be protected by the pirate invasions, or from each other due to the so many family vendettas.
Discover below our proposal for a semi-private tour from Gythion to Mystras. We are offering this tour only on specific dates throughout the year, since only a few vessels arrive to the port of Gythion.
6 h. tour (semi-private tour, up to 12 people) Cost per person: 90 euro (children up to 3 y.o. free) For 2023 the cost per person will be 105 euro (transportation + guidance throughout +…
Read more...